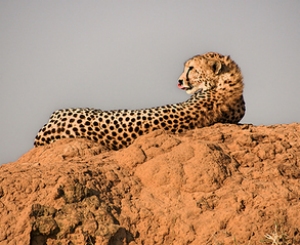 6 Days Masai Mara Kenya an Gorilla Trekking Safari Volcanoes National park Rwanda .
Day 1: Nairobi–Masai Mara
After breakfast proceed down the Rift valley headed to the Mara.  Here you have superb photographic opportunities to capture the stately black-manned Lions, Elephants and various plains game. Lunch, dinner, overnight at a Lodge or Tented Camp
Masai Mara This is one of the most famous Parks in the world and the most visited park in Kenya.  Standing at an altitude of 5,000 Ft, 275 Kms from Nairobi down the Great Rift Valley with magnificent views in the distance is Masai Mara Game Reserve. The Reserve itself offers the famous 'Out of Africa' breathtaking views and covers an area of 1,510 Sq. Km. Famous also for the Out of Africa film which was mostly filmed here, this Reserve holds an extraordinary density of animals including "the Big Five" (lions, leopard, elephant, buffalo, and rhinoceros). You will be amazed by the populations and species of plains game.
Day 2 Masai Mara
Wake up to a full day game watch in the world famous Masai Mara game reserve. Breakfast, lunch and dinner in your lodge.a visit to the Masai villages . Can be as well arranged upon request
Day 3 Masai Mara
Another day looking for the big five . Full day game watch in the world famous Masai Mara game reserve. Breakfast, lunch and dinner in your lodge.
Day 4  Masai Mara – Nairobi – Kigali
After breakfast you start your drive back to Nairobi arriving in the afternoon and continue to there after your transfer to the International Airport. Then fly to Kigali . On arrival at Kigali Kanombe  Airport will  be met and greet by Travel Hemispheres local guides/driver Transfer to Hotel Chez Lando .
Day 5 : Kigali – Park des Volcanoes National park
Morning tour the genocide museum for historical 1994 genocide memories. After a  rest in Kigali for lunch and proceed to Ruhengeri. Then will be driven to Ruhengeri .Pass through magnificent views of the hilly countryside which give Rwanda its stature as "a country of a thousand hills" Check in at the Mountain Gorillas Nest hotel dinner and overnight or stay at budget facility Kinigi Guest House. (B, L, D)
Day 6: Gorilla trekking in Park National des Volcanoes
Early morning drive to park headquarters  pre-Mountain Gorilla visit briefing for all guests. After the gorilla trek there will an opportunity to explore other community-based tourism attractions. Depending on the time you will be back from the forest can visit Ruhengeri Market, providing you with an opportunity to see and buy local Rwandan fabrics and to see how local markets are organized. at the views of the Virunga mountain chain.  Overnight at the Mountain Gorillas View Lodge or Kinigi Guest House for Budget or Hotel Muhabura in Ruhengeri. (B, L, D)
Day 7: Transfer to Kigali, and go on a Kigali city tour
After breakfast will be driven to Kigali City the  main administrative and economic centre of Rwanda. With an ever green feel of fresh air, it is the cleanest and safest city in the region. Kigali's face is dramatic beautiful from which its name is derived.
Cost per person USD ( minimum 2 pax )   Cost does not include flight cost from Nairobi to Kigali. We  can arrange this separately that is if you want us to arrange it.