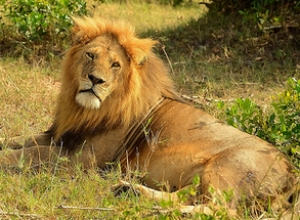 13 days the best of kenya and Tanzania.Day 1: Nairobi – Samburu
Morning be picked from your hotel and head north to the dramatic semi-arid scrubland of the Northern Frontier. After lunch, an afternoon game drive to sight resident wildlife species like the Reticulated Giraffe, Grevy's Zebra, Beisa Oryx and the blue-necked Somali Ostrich that are rare elsewhere in the country. Dinner and the night will be spent along the banks of the Uaso Nyiro River at the Samburu lodges.
Day 2: Samburu
Today will enjoy Samburu   exploration of fascinating reserve thatawaits you. Early morning and afternoon game drives give a chance to explore some of the world's most spectacular and exciting terrain. Overnight and meals at the lodge.
Day 3: Samburu – Tree Lodge
Early breakfast, depart for Aberdares Country Club. The main house, a romantic stone building with red tiled roof was built in 1937 by the Lyon family from England. During the Second World War this house was known to have hosted some pretty wild parties. Lunch at the Club followed by transfer to The Ark at 1430 hrs with small overnight baggage. The unique architecture of The Ark with numerous viewing decks balconies and lounges over the waterhole allow for the pleasure of all night game viewing. Dinner and overnight .
Day 4: Tree Lodge – Lake Nakuru
Morning transfer to Aberdares Country Club for onward journey to Nakuru. Arrive in time for lunch. Enjoy an afternoon game drive in Lake Nakuru National Park. The park provides a sanctuary for the rhino. Lake Nakuru has always been considered a flamingo lake par excellence… Dinner and overnight at the Lodge.
Day 5: Lake Nakuru – Masai Mara
After breakfast, drive towards Masai Mara – the land of vast migrating herds. Arrive in time for lunch. In the afternoon, embark on a game drive to get a closer look at the Mara. Return to an archetypal Mara Lodges / tented camp for sundowners, dinner and overnight stay.
Day 6: Masai Mara
Early morning and afternoon game drives to absorb the enormity of the Mara. In this country of breathtaking vistas, view its vast assemblages of plains game together with their associated predators: Buffalo, Black Rhino, Hippopotamus, Leopard, Cheetah, Common Zebra, Coke's Hartebeest, White bearded Gnu, Oribi, Warthog, and Thompson's and Grant's Gazelles. All meals and overnight stay at the Lodge.
Day 7: Masai Mara – Nairobi – Arusha
Return to Nairobi and then head for Arusha, the base for safaris in the northern circuit of Tanzania. It is a quaint town located at the base of Mt Meru and in Tanzania's vast coffee growing highlands. Dinner and overnight at a lodge here.
Day 8: Arusha – Lake Manyara
Drive towards Lake Manyara National Park to see the tree-climbing lions. Arrive in time for lunch. Lake Manyara National Park is situated spectacularly between the Great Rift Valley Escarpment and Lake Manyara. During a game drive animals such as elephants and hippo can be seen. Bird life, both resident and migratory, is prominent in the Park. At certain times of the year the lake is home to thousands of flamingoes. Dinner and overnight at a lodge situated in the Park.
Day 9: Lake Manyara – Serengeti
After breakfast, drive to the Serengeti Plains, the most famous of Tanzania's National Parks. It is most well-known for the annual migration which takes place across the great savannah plains. It is a phenomenal sight, thousands and thousands of wildebeest as far as the eye can see. Arrive at a luxurious lodge in time for lunch. An early evening game drive and then return to the lodge for dinner and overnight stay.
Day 10: Serengeti
Two game drives to enjoy Serengeti. Look out for the leopard along the riverine forest and witness the vast herds of plain animals. Lion and cheetah may also be spotted lurking around the many kopjes' in the area. Meals and overnight stay at the luxurious Serengeti lodge.
Day 11: Serengeti – Olduvai/Ngorongoro
After breakfast, drive towards Ngorongoro. Enroute stop at the archaeological site of Olduvai Gorge – "the Cradle of Mankind". Here, Mary and Louis Leakey found fossilized remains of man's oldest ancestors. Additionally, fossil remains of 35 humans and 150 species of mammals were found from here. Proceed towards Ngorongoro. Arrive at a strategically located lodge, on the rim of the crater with magnificent views for dinner and overnight stay.
Day 12: Ngorongoro
With picnic lunch on board, descend 610m into the crater floor, from a height of 2,286m for a complete day of game viewing. Ngorongoro was declared a World Heritage site in 1978 in recognition of its beauty and importance. The crater has an area of 265 sq. km. All of the big game: lions, rhino, elephants can be seen here. Return to the strategically located lodge for dinner and overnight.
Day 13: Ngorongoro – Arusha – Nairobi.
After breakfast, return to Arusha for lunch continue to Nairobi .