Posted: under Flying safaris, Gorilla, mountain gorilla tracking, Mountain Trekking, Rwanda, Safari, safaris, Tours, Uncategorized.
Tags: Gorilla flying safari, gorilla safaris, Gorilla trekking safaris, primate safaris, rwanda safaris, Uganda safaris, Uganda tours
     New Uganda Gorilla Flying Safaris
Why not?  Enjoy Discounted New Uganda Gorilla flying Safari in the months of April and May at reduced price of USD150 per person us . Travel Hemispheres  offers flying safaris to Bwindi to track gorillas on daily basis on scheduled flying safaris and tours.
The recent mountain gorilla census of gorillas showed an improved increase in mountain gorillas where Bwindi now has over 400 number more than a half remaining on earth.  Travel hemispheres conducts schedule flying safaris to Bwindi. This is an opportunity  for many old and young to view these  primates without the long drives – and can take advantage of the gorilla permit discount for April and May  where a permit is reduced to $350.
Gorilla tracking in Uganda's Bwindi Impenetrable National Park is a fascinating adventure  where you will spend hours  traversing rugged, possibly muddy high-altitude terrain for an up-close view of the rare mountain gorilla in its famously misty rainforest habitat. Some 400 mountain gorillas, roughly half of the entire world's population of the elusive species, live in the Uganda park.  Uganda offers more than 12 primate species, rare birds such as the Shoebill, and tree-climbing lions.
Below is our gorilla adventure itinerary to follow
UGANDA FLYING SAFARI SCHEDULE 3: Gorilla Tracking in Bwindi Impenetrable Forest National Park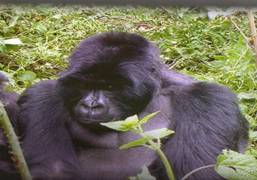 Bwindi Impenetrable National Park is the home of Mountain Gorillas. It is estimated half of the world's surviving population of mountain gorillas –300 live within Bwindi boundaries. Bwindi National Park is located in the southwestern part of the country –the Kigezi Highlands once known as Switzerland of Africa.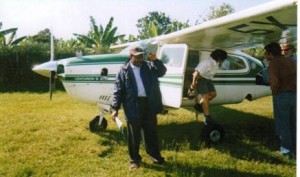 Bwindi National Park offers a dramatic steeply forested landscape and is incredibly dense, but crisscrossed by numerous animal trails allowing access to tourists. The 4 families have been habituated for tourism although trekking may be strenuous the viewing of the gorillas in their natural habitat is an experience long to be savored.. Apart from the gorillas, there are a variety of primates to be seen including the blue monkeys, red tailed monkeys, black & white colobus monkeys. The great blue touracos are often seen and even for a non bird watcher they are marvelous sight.
UGANDA FLYING SAFARI SCHEDULE 3:
Why not?  Enjoy Discounted New Uganda Gorilla flying Safari in the months of April and May at reduced price of USD150 per person us . Travel Hemispheres  offers flying safaris to Bwindi to track gorillas on daily basis on scheduled flying safaris and tours.
Forget the 10 hour  long drives  to reach Bwindi and have more time  with gorillas at the park and communities in favor of more time for wildlife, tracking and in-country experiences
We are able to offer an almost unprecedented discount on gorilla permits. For April and May   gorilla permits are  priced at $350/ gorilla permit  – a savings of $150/person/day. We hope you can take advantage of this special pricing to enjoy this once-in-a-lifetime experience!  Exploit this chance and track gorillas 2 times and enjoy discount on accommodation
3 Days Bwindi Gorilla Tracking/Trekking Itinerary
Day1: Kampala/ Kajansi/Entebbe to Kayonza /Kihihi Airstrips Morning will be picked from Sheraton or your hotel to our home airstrip in Kanjasi or to Entebbe Airport . Alternatively be met on arrival at Entebbe Airport and be flown to Bwindi. Landing will be at Kayonza air strip some 20km away from Bwindi. Maximum flight time will take 1.50 minutes. At times where a big plane is used landing may be in  Kihihi  where you will be picked and be driven to Bwindi.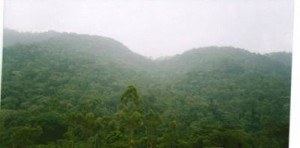 Bwindi Mountain Gorilla Forest park
Fly over countryside viewing the beautiful terraced hills of Kigezi commonly referred to as Switzerland of Africa with nice scenery, Mafuga forest for viewing the Virunga mountains of Congo and Rwanda. However this will depend on the weather of the day and the route to take. On arrival will at the airstrip will be picked and be driven to Bwindi. Over night at Gorilla Forest Camp- executive and luxury/ Buhoma Lodge /Sliver Back Lodge /Volcanoes gorilla safari lodge or Kitandara Tented Camp for mid rate
Day2: Gorilla Tracking in Bwindi Day for gorilla tracking and over night . Gorilla tracking takes about 1 hour to 8 or more depending on the movement of these forest giants at that particular day. The terrain is steep and hilly but with dense forest cover. The thrill of coming face to face with the gorillas will erase the potential strenuous of day's hiking. Spend one hour with gorillas watching their daily activities and playful manner. Return to your place of stay.
Day3: Bwindi to Kanjansi/Entebbe/Kampala After breakfast will be driven to the airstrip of Kayonza or Kihihi. Be picked by your shceduled /charter flight to Entebbe airport for your  flight. Or to our home landing site Kanjasi to be picked by our vehicle to Kampala.
Accommodation in Kampala will be arranged at your request in one of good hotels like Serena Hotel, Sheraton Hotel and Grand Imperial Hotel, Africana Hotel ,Imperial Royale, Emerlad Hotel. Or at Boma Hotel in Entebbe, or Protea Hotel  a new luxurius facility  in Entebbe
We can now arrange scheduled flight to Bwindi for you on daily basis  on all the days of the week from Monday to Sunday. This can be either in the morning or in the afternoon.
Morning  flights
Entebbe – Bwindi  : depart  8.30am arrive 10.35am
Bwindi – Entebbe  : depart 10.55am arrive 11.55am
Afternoon flights
Entebbe – Bwindi : depart  12.30pm arrive 13.45pm
Bwindi – Entebbe : depart  14.55pm arrive 15.56pm
Because  there are still few people,  its better to have  your flight fit in either morning or afternoon schedule. Luggage is limited to 15kg.
PRICE
| | | | | | | | |
| --- | --- | --- | --- | --- | --- | --- | --- |
| No of   people | 1 | 2 | 3 | 4 | 5 | 6 | SRS |
| Cost   per person (USD) | | USD $ | | | | | |
| Gorilla   Forest Camp Lodge | | 2350 | | | | | |
| Buhoma   Lodge/Buhoma Homestead | | 1900 | | | | | |
| Sliver   Back Lodge | | 1600 | | | | | |
Costs above includes:
-1 goilla permit per person
- 2 nights accommodation at Bwindi at either lodge at fulll board
- return air fair tickets from Entebbe  to Bwindi
- airport transfer on day 1
- air field transfers
- TAKE YOUR SAFARI IN  April May and November and pay less USD $ 150 pp
Cost does not include Kampala/Entebbe  accommodation and this can be arranged on request.
Comments (0)
Mar 12 2013