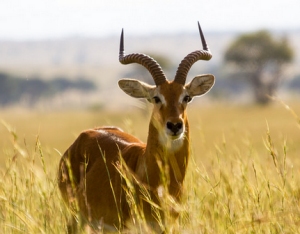 Day 1:Airport Transfer
A representative will meet you at the Entebbe International Airport on arrival on flight at 1.10am (in the night) and be driven to Kampala will have time to rest at hotel. Will rest Fairway Hotel or at Tal Cottages in a bit quiet environment where the short time of rest will be maximally utilized BB
Day2: Kampala to Murchison falls
Morning at 8.30am after breakfast will be driven to Murchison falls. Visit Ziwa Rhino sanctuary Proceed to Murchison falls stopping at Masindi town for lunch. After proceed to Murchison falls, visit to the "top of the falls" the awe – inspiring Murchison Falls where the River Nile hurls itself in an extraordinary convulsions through a narrow crevice and then plunges 40 meters in one breathtaking leap. Check in at Paraaa Safari Lodge an upmarket facility or Nsabiya River Lodge or Murchison falls River Lodge for middle facility or at Red chili for budget FB.
 Day 3:Murchison Falls National Park
This is the largest national park in Uganda and has a large concentration of wildlife animals. Start the day with an early morning game drive on the northern bank of the Nile River with a bigger concentration of game where you will be able to view those animals that are unique to the African Savannah like the giraffe, lion, leopard, buffalo,  elephant hyena,  the Uganda kob etc. The bird life is also impressive, with the African fish Eagle being one of the prized sightings and with luck the rare shoebill stork. There is also a variety of vegetation ranging from riparian forests and swamp lands to broad Savannah.
After lunch, take a launch cruise upstream to the falls on the Nile River where you will see huge crocodiles, schools of hippos, buffaloes, elephants and a variety of water birds on lucky day may encounter the Shoe Bill stork. Dinner and overnight at  your facility FB.
Day 4:Murchison Falls – Kibale Forest National Park
Drive to Fort Portal with picnic passing the road that overlooks the rift valley for sight seeing of the Great rift Valley and many lakes situated in the rift. Capture blue Mountain of Congo on clear days . Stop for places where markets are available to interact with local communities, enroute stop over to see the tea plantations, arriving in the evening check in at Mountain of the moon or Kibale Guest cottages or Fort Motel Hotel for middle facility or at Toro Resort for Budget for dinner and overnight. FB
 Day 5: Kibale Forest National Park
After an early breakfast, will transfer to Kibale Forest National Park , with local guides carry out chimpanzee tracking in Kibale National Park nestled in the shadows of the Rwenzori Mountains (the famed mist shrouded "Mountains of the Moon") Kibale Forest is rich in animal life, including an astonishing 12 species of primates in this park have been recorded, the very localized red colobus and L'Hoest's monkeys. Tracking the chimpanzee our 'cousins' is a very interesting experience. The way they feed, climb trees, respond to humans, caring for their young ones leaves an imaginative dream to tell.
In the afternoon visit the surrounding- Bigodi swamp famous for many bird species and other primates or enjoy unique view of crater lakes and other volcanic features. Drive back to Fort Portal to your accommodation for dinner and overnight. FB
Day6:Fort Portal/Kibale to Queen Elizabeth National Park
After breakfast, drive to Queen Elizabeth National Park. Enroute you will see the spectacular view of the Rwenzori Mountains. They lie along the western boarder of Uganda and rise to a height of 5,100 meters. On clear day you can view Ice caps on the peaks of Stanley and Magherita, and their incomparable, beautiful, mist-shrouded peaks provide a unique backdrop to one of our most magnificent national park- Queen Elizabeth. Arrive in the evening dinner and overnight at Mweya safari Lodge or Buffalo Safari Lodge or Katara Lodge or at Bush Lodge for middle facility or at Mweya hostel for budget FB.
 Day 7:Queen Elizabeth National Park
This park is one of the most outstanding treasures of Uganda, and has been designated a Biosphere Reserve for Humanity under UNESCO auspices. It borders Lake George and Lake Edward as well as Kazinga Channel in the western area of the Great Rift Valley escarpment.
The day begins with an early game drive looking for wildlife. There are variety of game; lion, buffalo, elephant, Uganda kob, bushbuck and the rare leopard. About 600 bird species have been identified here, making it a Mecca for bird-watchers. They include the black bee-eater, 11 different species of kingfisher and several falcons, eagles and other raptors. Take a 2-hour launch cruise on the Kazinga channel in the afternoon. This waterway joins Lakes Edward and George and it is filled with schools of hippos, buffaloes with elephants at the banks. Retire to the lodge for dinner and over night. (FB) Evening will be at your leisure
Day 8:Queen Elizabeth National Park-– Bwindi 
After breakfast go for chimpanzee tracking in Kyambura Gorge where will again have chance of seeing and viewing other primates apart from chimpanzees OR will carry out game drive that may yield chances to catch up with early riser – predators like lions, leopards, hyenas etc. Will proceed to Bwindi National park famous for gorilla tracking. Overnight stay will be at Mahogany Springs Lodge, Kitadara Lodge or   Buhoma Rest Camp facilities. FB
 Day 9: Bwindi Impenetrable Forest National Park. gorilla tracking
After breakfast, will go for gorilla tracking natural walk following one of the famous forest trails. explore the hidden falls and other primates that inhabit this forest. The Forest also inhabit many bird species endemic to this forest which can be viewed. After will rest at your lodge for overnight. FB
 Day 10: Bwindi Impenetrable Forest National Park – Mburo national park .
Morning will take village walk to interact with local communities, visiting the local traditional doctor and learn some brewing techniques and their culture. Get to know what the communities say and how they have stayed for years with these forest giants. After drive to Lake Mburo . Arrival will be in the evening. If time allows take an evening game drive . overnight stay at Acadia cottages for middle facility or at Eagles Nest Lodge or Runyo camp for budget and overnight. FB
Day 11:  Mburo – Kampala
Morning do game drive looking for Zebras , buffalo , many antelopes and boat ride after drive out with stopover to view the long horned Ankole cattle in the open savannah grassland, over at Equator crossing for lifetime photo taking . Stay overnight at Fairway Hotel in Kampala BB
Day 12: Kampala- Entebbe Airport
In the course the day if time allows can visit the city centre like the museum, craft points at your own with guide . After proceed to the airport. End of tour
 Thus the cost for this arrangement for 2 people on private tour will cost a follows:
The cost will include accommodation of 11 nights 12 days and meals at full board, 1 gorilla tracking and chimp permits per person, park fees, vehicle with fuel and driver guide.
Pease note the safari cost include:
meals and accommodation as indicated in the itinerary
full time safari driver/guides,
park entry fees, all game drives, boat/ launch trips, forest guiding walks, all activities while on safari and all the applicable Government Taxes.
4×4 wheel drive vehicle with gas
Airport transfers.
chimp permit per person – Kibale/Kyambura
D dinner
BB- Bed and breakfast
HB- Half Board
FB- Full Board
Excluded are:
Visa fees. Drinks, your bar bills, phone calls, personal insurance and any other services of a personal nature like souvenirs tips and laundry etc.
We are looking forward to your inquiry / response.