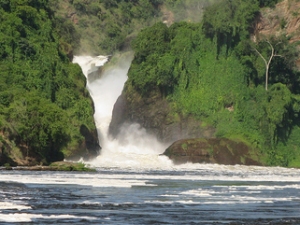 Day 1: Kampala – Murchison Falls National Park.
Morning at 7.00am your driver guide will pick you from   Hotel Kampala where you will start the drive to Murchison Falls National Park. Drive through the Rhino Camp, view rhinos and after proceed to Masindi for lunch en route stopping at Masindi town. After lunch proceed to Murchison falls national park.
Arrive at Murchison Falls National Park gate and proceed to visit the top of the falls for a breathtaking sight of the raging Nile as it forces its way through a rocky gap barely six meters wide. This is the point where the Nile River explodes through a narrow gorge and cascades down to become a placid river. Enjoy nice views of the falls while taking photographs.
Murchison falls National Park covers 3,840-sq km and has recorded 76 mammal species and 450 bird species. The altitude is 619m at the delta and 1,292 at Rabongo Hill. The mean temperature is 29 ºC-high and 21 ºC-low.
Arrive Murchison Falls National Park check in at Sambiya River Lodge (cottages ).Dinner and overnight.
Day 2: Murchison Falls National Park.
Morning after an early breakfast drive in the northern bank of River Nile start the day with an early morning game drive. You will most likely be able to view those animals that are unique to the African Savannah like giraffe, antelope, lion, elephant, hyena, buffalo and the Uganda Kob..
After lunch you will take on a launch cruise on the Nile River. The cruise takes you to the Bottom of the thundering falls where you will see huge crocodiles, schools of hippos, buffaloes, elephants and a variety of water birds like herons, cormorants, ducks, bee-eaters, kingfishers, skimmers, fish eagles and sometimes the rare shoebill. Return to the lodge for dinner and overnight .
https://www.google.com/streetview/#uganda-highlights-2/murchison-falls-national-park
D 3:
Murchison Falls – Kitgum
Morning after breakfast head for the Murchison plains and carry out game drive. After game drive, will Start the drive to northern Uganda stopping for lunch at Gulu. This is a tour to one of the isolated national parks in Uganda and  we will drive you  through the plain  and remote vegetation  to northern part of the country. After lunch proceed to Kitgum for night overstay and dinner at any of the following hotels  Bomah, Fuglys, Bomah hotel for midrange facility or Tembo guest house with budget facility.
Day 4: Kitgum – Kidepo valley national park- Game drive.
After breakfast we will continue our journey the most magnificent and Africa's finest wildernesses through the remote villages of Acholi areas to the Karamonjo's homesteads and finally into the valleys of Kidepo national park the most beautiful and number 3 best national park in Africa voted by CNN travel channel. After you have check into your rooms and had lunch we will take you on afternoon game drive into the vast plains of the Kidepo valley national park  where you will be able to spot some of parks lions that may be sitting in ''sausagetreess'' along the narus valley or on the rocks at the entrance of Apoka park headquarters, other wildlife that can be spotted include elephants, leopard, bushbucks and much more. And you will return to the hotel for night. Optional accommodation facilities include Apoka safari lodge, Ngamoru camp, and Uganda wildlife Authority bandas..
Day 5: Kidepo valley national park:
Morning will be conducted on a game drive to the hot springs and nature walk. Drive in the morning heading to the north of this park , after break and carry with you packed lunch for game drive to the hot springs via the palm trees lined Kidepo River, in search for Ostriches and leopards, tortoises along the way. After lunch we will end our guided nature walk through the park and return to hotel refresh yourselves, relax and have time to enjoy the wildernesses night overstay and meals at Apoka safari lodge,NgaMoru camp and Uganda wildlife Authority bandas or camping in the wilderness at the Bush camp.
Day 6: Kidepo Valley – Gulu :
After breakfast will drive heading to Gulu after and will stop over for lunch break in Kitgum before proceeding to Gulu for night. Gulu is an old town in the northern part of Uganda but development was affected but Kony wars insurgency caused by the loads resistance Army but now life is normal  with busy streets and safe which allow visitors to move freely in town and do shopping. Overnight accommodation will be at Acholi Inn, Acholi Bar, and Pearl Afrique for midrange and upmarket facility, Frankline hotel for Budget travelers.
Day 7: Gulu – Kampala :
After Breakfast in the morning drive to Kampala with stopover for lunch break on route and drop off at your residence or Hotel and that will be end of the trip and
Thanks for choosing to travel with Travel Hemispheres Uganda safaris the true Kidepo specialist. Includes; pick up from Kampala and back, transport in 4×4 safari vehicle with pop up adapted for game viewing, game drive, hot springs, accommodation in double/ twin room for selected hotel, meals attached to the room, park entrance fees.