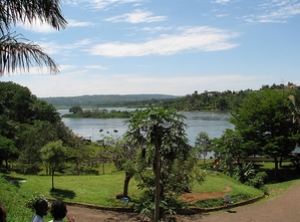 River Nile flows from Lake Victoria at what was Rippon Falls now submerged and flows through the Bujagali falls and continues into Lake Kyoga. It is 6,853kilometers (4258miles)a long, its water sources are shared by eleven countries, namely, Tanzania, Burundi, Uganda ,Kenya ,Rwanda , Democratic Republic of Congo ,Ethiopia ,Sudan ,Egypt, Eritrea ,and south Sudan. Victoria Nile cuts a raucous passage west across Karuma Falls the narrow pillars of Murchison Falls towards Lake Albert, the Albert Nile meanders along a slow, wide corridor into southern Sudan then to Mediterranean Sea leaving the far west of Uganda, on the Zaire border, the snow covered Rwenzori Mountains that rise into almost permanent equatorial mists.
The Nile river has two major tributaries that is the White and Blue Nile. The White Nile is longer and rises in the central Africa of the Great Lakes with the most distant source still undetermined but located in either Rwanda or Burundi. The River flows north words through Tanzania, South Sudan, Uganda and finally Lake Victoria. The northern section of the river flows almost entirely through desert from Sudan into Egypt .The Nile ends in a large delta that empties into the Mediterranean Sea.
The Nile starts its journey to the Mediterranean Sea from Lake Victoria which joins the source of the Nile and the surrounding environment. Depart from Kampala, heading east to Jinja town passing via coffee, tea and sugar plantations. First stop at the submerged source of the Nile by Owen Falls Dam and Masese fishing village on Lake Victoria. Spend the afternoon relaxing at Bujagali Falls.