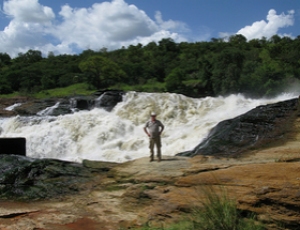 5 DAYS ITINERARY MURCHISON FALLS AND KIBALE FOREST NATIONAL PARK

Day1:Kampala to Murchison falls
Early morning will be  picked from your hotel in Kampala and be driven to Murchison falls. Proceed to Murchison falls stopping at Masindi town for lunch. After proceed to Murchison falls, visit to the "top of the falls" the awe – inspiring Murchison Falls where the River Nile hurls itself in an extraordinary convulsions through a narrow crevice and then plunges 40 meters in one breathtaking leap. Check in at Nile /Paraa Safari  Lodges for Upmarket or at Sambiya River lodge for Middle facility or Red chili camp for Budget FB.

Day 2:Murchison Falls National Park
This is the largest national park in Uganda and has a large concentration of wildlife animals. Start the day with an early morning game drive on the northern bank of the Nile River with a bigger concentration of game where you will be able to view those animals that are unique to the African Savannah like the giraffe, lion, leopard, buffalo,  elephant hyena,  the Uganda kob etc. The bird life is also impressive, with the African fish Eagle being one of the prized sightings and with luck the rare shoebill stork. There is also a variety of vegetation ranging from riparian forests and swamp lands to broad Savannah.
After lunch, take a launch cruise upstream to the falls on the Nile River where you will see huge crocodiles, schools of hippos, buffaloes, elephants and a variety of water birds on lucky day may encounter the Shoe Bill stork. Dinner and overnight at  your facility FB.

 Day 3:Murchison Falls – Kibale Forest National Park
Drive to Fort Portal with picnic  passing the road that overlooks the rift valley for sight seeing of the Great rift Valley and many lakes situated in the rift. Capture blue  Mountain of Congo on clear days . stop for places where market are available  enroute stop over to see the tea plantations, arriving in the evening check in at:
Luxury facility at Kyaninga Lodge , Ndali lodge , Primate Lodge tents
Upmarket- Fort Motel/ mountains of the Moon, primate lodge bandas
Middle –   , Kibale guest cottages for middle , at Toro Resort for Budget for dinner and overnight.  FB
 Day 4:Kibale Forest National Park
After an early breakfast, with local guides carry out chimpanzee tracking in Kibale National Park nestled in the shadows of the Rwenzori Mountains (the famed mist shrouded "Mountains of the Moon") Kibale Forest is rich in animal life, including an astonishing 12 species of primates in this park have been recorded, the very localized red colobus and L'Hoest's monkeys. Tracking the chimpanzee our 'cousins' is a very interesting experience. The way they feed, climb trees, respond to humans, caring for their young ones leaves an imaginative dream to tell.
In the afternoon visit the surrounding- Bigodi swamp or enjoy unique view of crater lakes and other volcanic features. Drive back to Fort Portal  to your accommodation for dinner and overnight. FB
Day5:Fort Portal/Kibale to Kampala
After breakfast/lunch depart at your leisure to return to Kampala. The drive is not long one about 5- 6 hours. Stopover on your way could be on forests and swamps points and other interesting points as you guide will be helping you. You will be dropped at your hotel or residence in Kampala. END OF TOUR
Please Note the safari cost will include:
Meals and accommodation at full board for the agreed dates
Boat cruise
Game drives, park fees,
chimpanzee permit
safari driver /guide and 4×4 vehicle
Park fees
Applicable government taxes
Drinking bottled water while driving on safari
Excluded are:                             
Beverages and bar bills, phone calls, personal insurance and any other services of personal nature like souvenirs, tips, laundry etc