Uganda Car Hire and Rental Services, Travel Hemispheres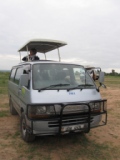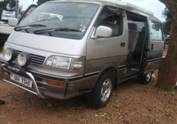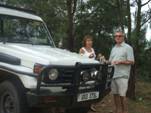 Travel Hemispheres special vehicles will whisk you from Entebbe airport on arrival to your best known hotel, or place in Kampala, Jinja, Masaka Mukono etc. We can arrange hotel reservations for you.  Depending on the nights you would like to stay, everything will be done at your convenience. You can stay all the nights you want.
While in the city of Kampala at your request we can conduct you to the city highlights, Kasubi Tombs, Uganda Museum, Crafts shops Namungongo martyrs shrine and nearby fishing village like Ggaba and Kasenyi in Entebbe.
Our fleet include coaster buses, minibuses, custom tour vehicles of Land cruisers, minibuses and small saloon cars.
Tour Vehicles with tour guide: 2- 9 seater:
Tour vehicles come with open roof to allow game viewing . These include Toyota Hiace, Land cruisers, Toyota super custom with open roof/sliding roof and sliding window glasses
Saloon Cars
| | | |
| --- | --- | --- |
| Destination | Rate without fuel | With Fuel at 100km |
| Kampala Town running | $50 | $80 |
| Entebbe Pick up or Drop | | $50 |
| Kampala – Jinja | $ 70 | $ 115 |
| Rate per day up country | $ 40 | $ 50 |
4WD Vehicles: Land cruisers: Pajeros, and other station wagon types.
| | | |
| --- | --- | --- |
| Destination | Rate without fuel | With Fuel at 100km |
| Kampala Town running | $80 | $100 |
| Entebbe Pick up / Drop | | $80 |
| Kampala – Jinja | $ 100 | $150 |
| Rate per day up country | $ 120 | $ on request |
Tour Vehicles with tour guide: 2- 9 seater:
Tour vehicles come with open roof to allow game viewing . These include Toyota Hiace, Land cruisers, Toyota super custom with open roof/sliding roof and sliding window glasses
| | | |
| --- | --- | --- |
| Destination | Rate without fuel | With Fuel at 100km |
| Kampala Town running | $70 | $90 |
| Entebbe Pick up / Drop | | $50 |
| Kampala Jinja | $ 60 | $ 120 |
| Rate per day up country | $ 110 | $ on request |
Minibuses 7 –12 seater
| | | |
| --- | --- | --- |
| Destination | Rate without fuel | With Fuel at 100km |
| Kampala Town running | $100 | $150 |
| Entebbe Pick up / Drop | | $85 |
| Kampala – Jinja | | $ 150 |
| Rate per day up country | $ 120 | $ on request |
Costa Buses: up to 25-30 seater capacity
| | | |
| --- | --- | --- |
| Destination | Rate without fuel | With Fuel at 100km |
| Kampala Town running | $100 | $150 |
| Entebbe Pick up / Drop | | $155 |
| Kampala – Jinja | $ 150 | $ 200 |
| Rate per day up country | $ 180 | $ on request |