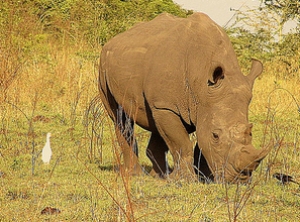 ZIWA RHINO AND WILDLIFE RANCH
Ziwa rhino wildlife Ranch Is located in Nakasongola district. It is 176 kilometers (100 miles) north of Kampala on Gulu highway towards Murchison Falls National Park .It is a home of the only wild rhinos in Uganda .Ziwa rhino sanctuary is a home to twelve southern white rhino with six adults three adolescents and three babies.
Activities
There are different activities that take place in Ziwa rhino and wildlife ranch and these include: Rhino trekking, Bird watching and nature walk.
Rhino Tracking
The Ziwa rhino sanctuary provides trained rangers who will guide you through this expedition. The chances of observing the rhinos at a very close and safe distance are high and a range of other wildlife species including Uganda kobo, bush bucks, oribis, rich bucks, hippos and crocodiles will also be seen.
Bird watching
The Ziwa Rhino Sanctuary is a home to over 250 bird species and is a great sport for avid birders interested in finding those rare African species. The experienced bird guides will enable you enjoy this experience. The list of bird species found in Ziwa Rhino Sanctuary is the following. Abdim's stork ,Blue spotted dove, Blue spotted dove, Blue spotted dove, Abyssinian Ground Hornbill ,Blue spotted dove, Booted eagle ,African Black Crake ,Curlew Sandpiper, African Pygmy Kingfisher ,Dark -caped Yellow Warbler African Scoop's Owl ,Double-toothed Barbet, Augur Buzzard ,Dusky Tit, Bare-faced Go-away Bird, Eastern Grey Plantain Eater, Barn Swallow , Black-and-white Cuckoo , Yellow-throated Longclaw,Yellow Wagtail, Eurasian Nightjar, Black-and-white Shrike Flycatcher ,Blue-breasted Kingfisher ,  Wood Hoopoe, Blue-cheeked ,Blue-napped Mouse Bird, acked Fiscal Shrike, Blue-breasted, Greenwood Hoopoe, Blue-cheeked Bee-eater, Grey backed Camaroptera, Blue-napped Mouse bird, Grey backed Fiscal Shrike

NATURE WALKS

Well trained guides will take you on a walk through the lush bush.  Ziwa Rhino Sanctuary is home to a wide variety of animals, birds and reptiles.  If you are looking to unwind in the quiet this is the activity you need to do. The best time for this activity is 8:00 to 10:00 hours or 16:00 to 18:00 hours which takes 2 hours. You need to have Closed shoes, long pants and insect repellent