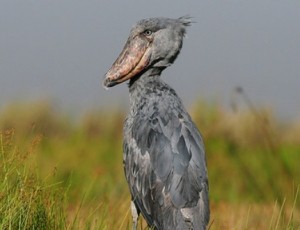 Day 1: Kampala-Murchison Falls National Park
After breakfast drive to Murchison falls. Stop for lunch at Masindi town. After lunch proceed to Murchison falls. Visit the top of the falls an exciting point where millions of gallons of water squeeze in 6-7 meter gap with thunderous sound before falling down 40 meters forming placid river. Dinner and overnight at lodge of your choice. At Paraa Safari Lodge FB or other related budget option cost chosen
SAFARI COST: 2 People sharing
Luxury cost per person: US$ 5330
Upmarket cost per person: US$ 3470
Middle Cost per person  :  US $ 2685
Budget cost per person:US$ 2330
LOW SEASON RATES:  Nov, April and May
 2 People sharing
Luxury cost per person: US$ 4185
Upmarket cost per person: US$ 3405
Middle Cost per person  :  US $ 3330
Budget cost per person:US$ 2180
All cost options are based on full board all inclusive.
Day 2: Murchison Falls National Park
Early morning take game drive looking for wildlife. Murchison Falls is the largest national park in the country and harbors different flora and fauna. Your game drive in the morning with a local guide who will assist you to sight wild game in the northern bank of River Nile where concentrations of game are in common sight of elephants, giraffes, antelopes, lions leopards hyenas and many bird species are a common sight.
After lunch in the afternoon go for a boat cruise on the famous River Nile up to the bottom of falls viewing variety of game that throng along banks of the river. Chances of sighting the shoe bill stork are many though not a guarantee and many more bird species continue up to the bottom of the falls where you will see animals like schools of hippos, crocodiles and many species of birds dinner and overnight. FB
Day 3: Murchison Falls – Fort Portal.
Morning after breakfast proceed to   Fort Portal /Kibale with packed lunch. Drive in one of the remotest parts of this country enjoying different forest environment and other savannah woodland vegetation plus communities along the road stop where you find local market to mix briefly with local people. Arrival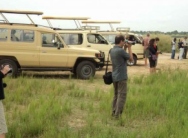 will be a in the evening enjoy nice views of the mountains of the moon on clear days.
Continue to Kibale National Park where you will settle in at Primate Lodge luxury tent facilities. Dinner and overnight FB
Day 4: Kibale Forest National Park
After breakfast visit Kanyanchu the park headquarter offices for your chimpanzee tracking where you will see other primates like the colobus monkeys, vervet monkeys plus other primates that share this forest with chimpanzees. The park also hosts over 320 species of birds including the yellow spotted nectar, yellow rumped tinker birds etc. It also has colorful butterflies; over 250 species have been spotted. For nature lovers, the dense forest is still intact you can see trees of different species. Track chimps in their natural habitat. Kibale Forest National Park is believed to have most concentration of primates in the world. Over 12 different species of primates including chimps in this park have been recorded. Enjoy a lot plant life with tall tropical tree species.
After lunch drive along the foot of Mountain Rwenzori and on clear days enjoys its nice ice peaks that remain wonder on equator line. Stop for communities along the road stop where you find local market to mix briefly with local people. Dinner and overnight at Mweya Safari Lodge. FB
Day 5: Queen Elizabeth National Park
Early Breakfast in the morning, there after carryout a game drive to catch-up with the early risers and predators returning to their hideouts. You are likely to meet grazing hippos, elephants, lions, spotted hyenas and leopards, bushbuck, waterbuck and stripped jackal, and of-course the several warthogs.
After lunch take boat cruise on Kazinga channel connecting Lake George and Lake Edward viewing different game lion, elephant, buffalo and many more plus plenty of birdlife. Dinner and overnight at Mweya safari Lodge. FB
Day 6: Queen Elizabeth – Ishasha – Bwindi
After breakfast you will drive Kyambura gorge to track chimpanzees. After picnic lunch, drive towards the southern sector of Queen Elizabeth national park. – The Ishasha sector famous for climbing lions. And precede to Bwindi Impenetrable National Park the home of Mountain Gorillas. It is estimated half of the world's surviving population of mountain gorillas –300 live within Bwindi boundaries. Dinner and overnight at Buhoma Luxury Lodge FB
Day 7: Bwindi Impenetrable Forest
Early morning breakfast and head for gorilla trekking with guides together with other tourists trackers on this day. The trek is strenuous but enjoyable. This is the major tourist attraction in Bwindi. Carry packed lunch with you that will have at picnic site in the forest. The thrill of your encounter with these gentle giants will erase your difficulties of the potentially strenuous trek. Spend time in awe watching gorillas go about their activities. Each encounter is different and has it's own rewards. You are likely to enjoy a close view of adults feeding, grooming and resting as the youngsters frolic from vines in a delightfully playful display. Return from tracking gorillas, have dinner and overnight At Buhoma Luxury lodge. FB
Day 8: Bwindi – Bunyonyi
After breakfast will be have a Batwa forest  walk  taking back many years when pygmy communities used to stay in this forest as as forest gatherers around, or do village walk  of Buhoma Community where you will see different local people as they do their day to day activities, visit the local/traditional healers, local brew distillation points, after the village walk will return back the lodge for lunch,  or to the community hospital or ca even donate to the community. After lunch will drive to Kabale and continue to Lake Bunyonyi, check in at you lodge for dinner and overnight.
Day 9: Bunyonyi – Lake Mburo
Morning take a boat ride on Lake Bunyonyi a seeing plenty of bird life and visiting communities as they go their daily activities. Enjoy this Switzerland of Africa scenery. After lunch drive to Lake Mburo national park or Mbarara town. Lunch will be on the way transfer to Lake Mburo Diner and overnight at Mantana Safari Lodge.
Day 10: Lake Mburo – Kampala
After Breakfast take a game drive  or later do natural walk or take boat ride on Lake Mburo . After proceed to Masaka road to Kampala. Stopover on your way could be for Ankole grassland where long horned cattle are common sight. Continue northwards breaking at the Equator crossing. Continue to Kampala. END .
SAFARI COST: 2 People sharing
Luxury cost per person: US$ 5330
Upmarket cost per person: US$ 3470
Middle Cost per person  :  US $ 2685
Budget cost per person:    US $ 2330
LOW SEASON RATES:  Nov, April and May
 2 People sharing
Luxury cost per person: US$ 4185
Upmarket cost per person: US$ 3405
Middle Cost per person  :  US $ 3330
Budget cost per person:US$ 2180
All cost options are based on full board all inclusive.
Please note the safari cost include:
meals and accommodation as indicated in the itinerary
full time safari driver/guides,
park entry fees, all game drives, boat/ launch trips, forest guiding walks, all activities while on safari and all the applicable Government Taxes.
4×4 wheel drive vehicle with gas
Airport transfers.
1 gorilla permit per person
chimp permit per person – Kibale/Kyambura
D – dinner
BB- Bed and breakfast
HB- Half Board
FB- Full Board
Excluded are:
Visa fees. Drinks, your bar bills, phone calls, personal insurance and any other services of a personal nature like souvenirs tips and laundry etc.