Uganda Safaris| Uganda Gorilla Safaris| Uganda Tours| Uganda Safari Holidays.
Travel Hemispheres is an indigenous Uganda Safari Management Company registered in Uganda. Uganda is a unique safari destination  for  African tours,Uganda safaris for  African holidays and adventure vacations . Uganda safaris and tours to Uganda include  gorilla safaris, gorilla tours ,birding safaris, and cultural Uganda tours. Also we take you for  Rwanda safaris , birding tours, primate tours, wildlife safaris in Uganda as well  carry out hotel and lodge bookings from luxury to budget accommodation facilities.
Popular Uganda Safari Experiences
Travel Hemispheres offer adventure tours spread all over Uganda and Rwanda national parks. Other tour Safaris of wildlife and game viewing are conducted in Kenya and Tanzania.Our Uganda tours are rich in wildlife and game viewing,culture and sight seeing.
We are delighted to welcome you to Uganda the pearl of Africa where the life turns live and probably life began. Travel Hemisphere Safaris offer adventure, curiosity that treats your dream of visiting Africa. It will be exciting to discover your  dream adventure in Africa with us.  We have been operating for the last ten years and come with a lot of experience while handling your dream holiday to Africa and especially to Uganda and Rwanda and Entire East Africa.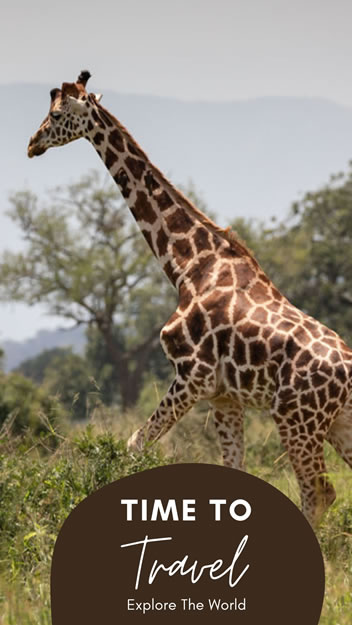 As a Tour Company, we conduct and operate safari vacations in East Africa with many years of experience in the field of Tours. Our Uganda Safari  Itineraries allows you to discover Africa newly to the current generation and the future ..We offer all tours be it luxury to budget tour packages that are independent and adventurous all done professionally and guided.
This has helped us to minimize time wastage to achieve more with our clients goals leaving them satisfied. We do offer discounted group departures for specific periods the weekends starting on Fridays.
Uganda Safari Attractions.
Uganda is "gifted by nature" once described by Sir Wintston Church hill in 1908 has a unique description which cannot be close to the truth  that has led Uganda to be popular East African safari destination……"For Magnificence, for variety of form and colour for profusion of brilliant life-plant, bird, reptile, beast- for true vast scale, Uganda is truly the Pearl of Africa"……situated in the heart of Africa ,astride equator ,boasts of wide diverse of landscape from ragged snowcapped mountains the vast flat lands stretching to the horizon, Uganda tours offers breathtaking scenery. You can enjoy a lot of Uganda safari in variety.
Uganda Primate Safaris:Uganda has the highest concentration of primates in Africa. Mountain gorillas,monkeys baboons, make primate tours. Chimpanzees share 98% of human genes making our closest living relative. Chimpanzees give birth every 3-7 years and look after their infants for 10 – 12 years before they are old enough to survive on their own.
Where To Trek Mountain Gorilla trekking in Uganda?
Bwindi Impenetrable Forest was gazetted in 1942 and upgraded to a national park in 1992 and recognized as World Heritage Site in 1994. In the local language  Rukiga, Bwindi means impenetrable. This park was opened to tourists to trek mountain gorillas in 1993. My company where I was working was the first to take 1st tourists to trek mountain gorillas. Thus after a good experience in handling many tourists, I formed my company Travel Hemispheres in 2004 and have been conducting Uganda safaris, and gorilla trekking safaris to Bwindi. Our Uganda safaris are rich and offer a lot to the tourists who go with us.
What is Mountain Gorilla Trekking Expedition Experience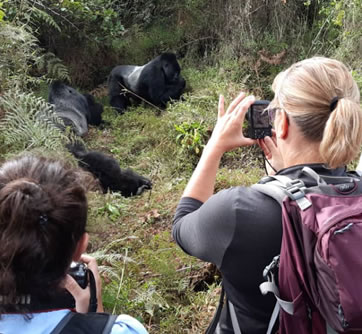 Just for fun, I remember in our course of arranging gorilla trekking expeditions then, some tourists would ask us if they can carry torches in their packaging to help them again in daylight to enter into Bwindi's impenetrable forest and then their torches would help them to provide the flash lighting in order to recognized and see properly mountain gorillas in their habitat. However, we allayed their fears that being impenetrable meant that there was thick undergrowth that makes it impenetrable and did not need light but some tools like pangas, and slashers to create a way so that you can easily reach where gorillas are foraging on that particular day and spend an hour to have nice views while taking snaps video taking photo shooting. So Bwindi  Forest by Nature has got many canopies that will not allow sunlight easily penetrate to reach the ground where mountain gorillas could be.
Mountain Gorilla trekking started at Buhoma side the northern part of the park accessed from Rukungiri and Queen Elizabeth national park via Ishasha sector,  with one mountain gorilla family of Mubare then habituated to be tracked by tourists.   Gorilla trekking is carried inside the  Bwindi forest. After a briefing by park officials at park offices then you are assigned rangers with experience who will lead you to where mountain gorillas will be at that time of encounter. Will walk down hills , will climb up hills will trek valleys and small gorges until you meet face by face mountain gorillas and by all this is called gorilla trekking experience. More mountain gorilla families were habituated and habituated .
What is Gorilla Habituation  Experience of Bwindi Impenetrable Forest
Our gorilla  habituation  safari experience will include gorilla trekking and gorilla habituation permit  experience that cost $1500  . Gorilla trekking permit cost is $700. Gorilla Habituation is having and taking part in the habituation of gorillas activities that start at around 6.00am for the whole day.  While gorilla trekking will follow already habituated gorilla families until you reach where the slept last night and follow them until you encounter them  for viewing. Gorilla habituation is the training of wild gorillas to get used to human beings so that when humans come to trek them they do not become violent and attack people. This exercise take very long time in years to make sure that wild gorilla family/group  is habituated. For  a person  doing habituation safari experience will have chance to learn more about these ape giants  lifestyle  and way of living in their natural habitat.