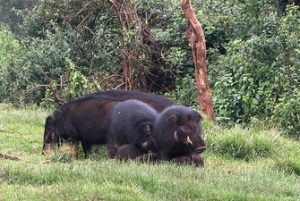 The Aberdare National Park was created in 1950 to protect the forested slopes and moors of the Aberdare Mountains. The Aberdare National Park is part of the Aberdare Mountain Range, a fascinating region of Kenya. According to traditional Kikuyu folklore they are one of the homes of Ngai meaning God. Mountain ranges and peaks soar to around 14,000 ft. giving way to deep V-shaped valleys with streams and rivers cascading over spectacular waterfalls – this area is a must for landscape lovers. From its vital catchment area the Aberdare Rainforest feeds the entire local and Nairobi water supply. Above the forest is a belt of bamboo, a favorite.
Attractions
The Aberdare National Park is another home for wild fauna in Kenya. These Animals abound in the forest: elephant, buffalo, giant forest hog and Kenya's indigenous endangered Black Rhino. The lodges are also the main attraction of the Aberdares. Both Treetops and The Ark are built above the ground beside floodlit waterholes with salt licks. Treetops is one of Kenya's most famous hotels as this is where British Princess Elizabeth was informed that she was now Queen in 1952 when her father died. The Ark, however, offers better game viewing, especially at night.
Tourist's activities
Game viewing is very rewarding: lion. Leopard, baboon, Black and White Colobus and Sykes monkeys are abundant. Rare sightings have also been made of the Golden Cat. Bird viewing is incredible with over 250 species recorded, including Jackson's Francolin, sparrow hawk, African goshawk, eagles, sunbirds and plovers. Nocturnal game viewing is taken so seriously that there is a bell in each room, which sounds if an unusual animal turns up at the waterhole. Elephant, buffalo, rhino, leopard and bushbuck are regular visitors.
Accommodation
There is a variety of accommodation. Treetops tree-house lodge and the Ark, a lodge built in the shape of Noah's Ark provide night game-viewing in the Salient area of the Park with excellent sightings of elephant, buffalo, lion and rhino, drawn to the waterholes and saltlicks each evening. Overall within the Aberdare National Park, there are two lodges, three self-help Banda sites, eight special campsites (requiring advance booking) and one public campsite (moorland). There are five picnic sites.

Location
This Park is located 180 km from Nairobi and stretches over a wide variety of terrains because it covers altitudes from about 7,000 feet to 14,000 feet above sea level. Established in May 1950, the Aberdare National Park covers an area of 767 square kilometers and forms part of the Aberdare Mountain Range.
Vegetation.
The park offers a wide range of beautiful landscapes – from the mountain peaks that rise to 14,000 feet above sea level, to their deep, v-shaped valleys intersected by streams, rivers, and waterfalls. One can also find moorland, bamboo forests, and rainforests as one goes down to lower altitudes. Moorland or moor is a type of habitat found in upland areas, characterised by acidic soils. Moorland habitats are most extensive in the neotropics and tropical Africa