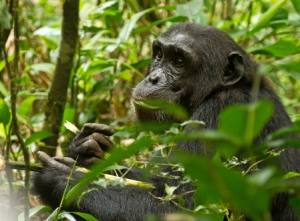 Kibale Forest National Park is 795square kilometers and it was gazetted in 1993.Its one of the rain forests in Uganda that is easily accessible situated in the northern and central parts on the plateau of Fort portal. Kibale Forest National Park is a habitant to 13 species of primates including Chimpanzee, a crobatic Red Colobus monkey, black and white and L'Hoest's are the Park's major tourist attraction. There is also an opportunity to track habituated Chimpanzees, closely related to humans than to any other living creature. Birders are in for a treat with 375 species including the Prirogrine's Ground-thrush, low spotted nectors yellow rumpled tinker bird, little green bill, green breasted pitta, the African pitta.The Bigodi is a paradise for bird watchers. Actually skilled birders can spot up to fifty new species on a bird list. Today, 200 species of bird have been recognized within the Bigodi Wetland Sanctuary. Among the major bird species within the sanctuary is the grand Blue Turaco the crowned eagle and the black bee-eater, dozen of antelope and many more species
Primate Walk
The Park's walks starts from the Kanyachu visitor centre which lasts 2-3 hours. Chimpanzees are the most primates sought by the visitors but also look out for the black and white colobus monkeys, red tailed monkey, and grey cheeked mangabey.
Chimpanzee Habituation
Chimpanzee Habituation experience allows the kibale's researcher and the habituators to watch Chimpanzee during their daily activities ,thereby getting used to human presence with out altering their natural behavior and also leaving there nests before feeding, hunting, resting breast feeding ,and patrolling.
Bigodi Wetland
The Bigodi Wetland is, located in Magombe swamp and the name was derived from a local Rutooro word`Kugodya`which means to walk tiredly .It was recognized for a extensive array of the biodiversity where several primates species like the red colobus monkey, baboon, black and white colobus monkey, blue monkey grey cheeked, mangabey, vervet monkey, red tailed monkey and the L'Hoest monkey. Also, Mammals such as chimpanzees, Sitatunga, mongooses, bush pigs, otters and bush bucks do visit this swamp coming from Kibale Forest National Park. The swamp is a habitant to 200 species of birds .The Bigodi Wet Land swamp is a paradise for bird watchers. Skilled birders can spot up to fifty new species on a bird list. Among the major bird species within the sanctuary together with the grand Blue Turaco which can be sighted a long guided walks trail.
Accommodation facilities
There are different loges found at Kibale Forest National Park and these are Ndali lodge, Primate Lodge, Fort motel, Mountains of the moon, Kibale guest cottages, Rwenzori view guest house and many more
Ndali lodge is an extintic volcano which provides a luxurious form of accommodation it is large enough to accommodate a family .It consists of en-suite facilities with a birth room, shower, and a hand basin. Ndali has got a verandah where break fast is taken from over taking the Lake Ndali's water comes directly from the Lake.
Primate Lodge is in the heart of Kibale Forest National Park which is an exclusive eco-lodge with luxury safari tents, a remote sky tree house including stone cottages at kanyanchu.
Fort Motel is endowed with nature's gifts, culturally vibrant and captivating views with delicious dinning, luxurious accommodation and notch services. The lodge offers relaxed and excellent facilities.
Mountains of the moon are easily assecceble which is within walkable distance of Fort Portal town. The calm and tranquil atmosphere of Mountains of the Moon is the perfect choice for all travellers to Fort Portal, Western Uganda
Facilities.
Furnished rooms with many distinguishing features furnitured in natural woods, restaurants rooms equipped with internet access and conference rooms. Mountain of the contains standard rooms, Deluxe rooms, Superior rooms, and Mountain suites with DSTVs
Rwenzori view Guest House.
Rwenzori View Guest House is situated with in the breathing taking of Rwenzori Mountains with a self contained and non self contained room like, en-suite, double/Twin rooms, and a Single room
Facilities
Each room contains their own bathroom and there is confertable.You are never in dark due to emergency lightening in each room. The energy-efficient solar panels ensure you will always be able to have a hot shower. Each room also has emergency lightening so you are never in the dark.
Kibale guest cottages are unique luxury cottages located 36 km on Fort Portal – Kamwenge road near Kibale Forest National Park in western Uganda and offer a spectacular view of low moist tropical forest, The cottages have got a variety of which can accommodate a maximum of 20 people per night, Each cottage balcony offers a spectacular view of Kibale Forest National Park ; home to chimpanzees, black and white colobus monkeys and many bird species .The tropical environment with a good garden bar provides different classes of wine and sprits for clients.