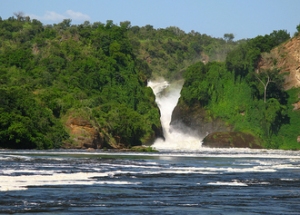 Murchison falls National Park is a protected area (MFPA) which comprises of (MFNP), Bugungu and Karuma Wildlife Reserves. Murchison Falls National Park derives its name from the Murchison Falls where the mighty River Nile explodes through a narrow gorge and flows down to become placid river whose banks are crowed with Hippos, Crocodiles, Waterbucks and Buffaloes. Its vegetation is characterized by savannah, riverine forest and woodland and it covers 3893 square kilometers. Wildlife includes lions, leopards, elephants, giraffes, buffaloes, hartebeests, oribis, Uganda kobs, chimpanzees and many bird species including the rear shoebill.
Game Drives
In the cool early morning before the sun rises too high, the plenty of game will be seen on the Buligi, Albert and queens tracks on north side of the river Nile. Nyamusika Cliffs and are easily seen like elephants and other game animals on the grassy hillsideGame drive takes four-hour game
Sport Fishing
Nile perch and tiger fish provides an exciting challenge to angler. Sport fishing is an exciting challenge to anglers. Sport fishing is also possible in the river sections above and below the fells', people can do sport fishing at designated sites at any time to be regulated. .
Launch trips on the Nile
One of the highlights of a visit to Murchison falls national park is the launch trip from Paraa to the foot of Murchison Falls Hippos, crocodiles are abundance elephants and, buffaloes, can also be seen as well as waterbucks and many variety of birds like fish eagles kingfishers ducks, bee-eaters, heron, cormorants, and, the rare shoebill.
The boat trip stars at 0900- 1400hours. The launch takes 17kilomenters from Paraa falls and back takes 28kilometers and from Paraa to the Delta and back takes about four to five hours.
Nature walks
Murchison falls protected area offers the opportunity to explore the wild on foot. Animals, birds and plants can be closely and quietly observed. Nature walks are offered at Rabongo Forest, top of the falls and Kaniyo pabidi in Budongo Forest.
Trip to the falls
Trails around the top of the falls go right up to the waters edge. The opportunity to hike to the top of the falls from the boat landing to get explode in to the falls. And the, picnic sites are also a available.
Kaniyo Pabidi
Kaniyo Pabidi is an undisturbed natural forest with in Budongo Forest Reserve, where the beneath mature mahogany and iron wood trees. Chimpanzee tracking is the most famous activity in Kaniyo Pabidi natural forest, including birds, chocolate backed kingfisher, the white thighed hornbill and puvels illadopsis found nowhere else in East Africa. Kaniyo Pabidi is on Masindi-Paraa road, 8kms from kichumbanyobo gate.
Rabongo Forest
Rabongo Forest Eco-tourism center is situated in an island of the tropical riverine forest in the southeast of the protected area which is 8 kilometers inside kichumbanyobo gate. It is surrounded by savannah grassland and is 1.5 hour drive from Paraa. . Rabongo Forest can be explored on foot, spotting primates like black and white colobus monkeys, red tailed monkey, baboons, and chimpanzee and bird species
Access
By road
From Kampala (305 km) through Masindi via Kichumbanyobo gate, Paraa is 85 km from masindi town by a direct rount on tarmac. A four-wheel drive is recommended.
The ferry at Paraa operates on scheduled time (07.00 and 19.00) between the southern and northern bank of River Nile.
By Air:
Charter services are available to all-weather aerodromes at Pakuba about 19 kilometers northwest of Paraa and Bugungu 19kilometers from Paraa
Accommodation
There are several accommodation facilities found in Murchison Falls National Park and these are Nile Safari lodge, Sambiya River Lodge and Paraa Safari Lodge, Red chili and many more.
Paraa Safari Lodge
Paraa Safari Lodge is located in Murchison Falls National Park in the north west of Uganda over looking one of nature's best kept secrets.
The lodge offers a unique blend of comfort, relaxation and adventure. All rooms are like a haven of style and serenity with a complete balcony and private bathroom.
The luxurious pool overlooks the winding River Nile beneath, which is the setting for the classic Hollywood movie. Enjoy a variety of excursions and activities; from exhilarating Safari drives to boat trips along the River Nile, ending at the foot of Murchison Falls. For the more adventurous
Sambiya River Lodge
Sambiya River Lodge is located 15meters away from the top of Murchison Falls. It is the perfect location for those who want to experience the tranquility of unspoiled Africa, untouched by mass tourism. Sambiya River Lodge is unique charm with atmosphere of intimacy which provided to the guests. Rooms designed as individual and family thatched cottages which have en- suite bathrooms, fans, screened doors & windows, mosquito nets, and a veranda to relax and enjoy the commanding views of quintessential.Sambiya allows you to relax in luxury while experiencing the sights and sounds of Africa
Nile Safari Lodge
Nile Safari Lodge is suited on the southern part of River Nile and surrounded by the papyrus forest Nile Safari Lodge is designed with beautiful wooden chalets along with lavishness tents that are located in a perfect area to give an amazing view of the park along with the African wilderness
Accommodation Facilities
Nile safari lodge is well designed with ten spacious rooms, 5 wooden chalets as well as lavishness tents that are well equipped with en-suited washrooms along with air conditioned rooms that are comfortable. Luxury balconies that will give a perfect view of the area. The lodge has high quality facilities that include a full stocked bar, restaurant with both international and local foods,
Red Chilli Rest Camp
Red Chilli rest camp is well known to be a financial plan camp; which is located with in Murchison falls National Park adjacent to the south part of the River. The camp is mainly for budget travelers.
Accommodation
Since it targets budget travelers, accommodation is in form of bandas and camp tents. The tents are free to all visitors who enjoy camping. The rooms have better services and they contain single, double as well as family. The bandas have facilities such as en-suite bathrooms, toilets, cooking area along with security lights in case of any danger.
Bar and Restaurant
The camp has a restaurant that serves both international and local cuisines and a fully stocked bar. They are designed within the thatched house giving a perfect view of the Nile. The opening hours are usually from 6.30 am to9.30pm.The b+ar is open up to midnight. There is a set camp fire that will give all the warmth you need and you can enjoy your meals as well. The camp manages tours to and from Kampala at a low cost.