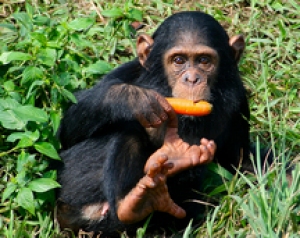 Ngamba Island
This is a home of orphanage chimpanzees and it is located on Lake
Victoria well as Chimpanzee viewing goes at specific time in the day which requires a day's excursion from Entebbe. The habituation of these close cousins will be experienced.
Ngamba Island is part of the Koome group of islands located on Lake Victoria 23km south of Entebbe, Uganda. It consists of approximately 100 acres, 98 of which are forested and separated from the visitor's area by an electric fence. Ngamba Island was officially opened to visitors in October 1999 and is currently home to 42 orphaned chimpanzees, almost half of which have been confiscated and brought to the island.
Ngamba Island starting as a result of increasing pressure at the zoo (UWEC) in Entebbe that led to the formation of the Chimpanzees Sanctuary and Wildlife Conservation Trust (CSWCT), established in 1997 by the Born Free Foundation (UK), International Fund for Animal Welfare (USA), the Jane Goodall Institute (Germany and Uganda), The Uganda Wildlife Education Centre Trust (UWECT) and the Zoological Board of New South Wales (Australia) and it provides these orphaned chimpanzees with a secure home to live out their lives, since a return to their natural habitat is not possible, while educating visitors and local communities about their remarkable species and the importance of conserving their fragile forest habitat
Day Trips to the island:
We take clients to Ngamba Island for day tours to experience close contacts with these amazing primates. Will enjoy younger chimpanzees as they interact , curious to explore their visitors, always playful and can even explore your face with their hands that will be lifetime experience. We do this at US$ 120 per With transport from Kampala. Minimum people for the tour are 2 people.
At UWEC (Uganda wildlife Education center) :
Behind the Scenes tours: Clients can now be taken to see animals inside their fences, this tour will allow you to observe the animals behavior and experience first hand information how the keepers feed the lions, carry out health checks and bring them back to their holding facilities. We shall arrange this for you and this way you can say you truly visited these wild animals.
We can also arrange for you a tour where you will be a keeper off the day , can fees rhinos , go to the kitchen and prepare food for animals , attend briefings participate in record keeping of different animal behaviours . we can also arrange for your long stays volunteering and student placements.