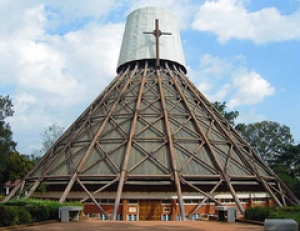 Uganda Martyrs' Trail (Namugongo)
The arrival of Christian missionaries in the 1880's marked a turning point in the religious life of the people of Buganda; as well as the political structure of the kingdom and the region at large. Christianity was received with much excitement but becoming a Christian required a commitment to break away from traditional lifestyles and adjusting to new moral and religious standards. The new believers were therefore regarded as 'rebels' who had abandoned tribal traditions.
King Mwanga was determined to rid his kingdom of the new teaching and its followers as conflicting values. He ordered the converts to choose between the new faith and complete obedience to his orders. Those who were unwilling to renounce their faith where subjected to death at Namugongo on 3rd / June / 1886.
Pope Paul VI on October 18, 1964 was recognized as Saints by the Catholic Church. This was a first for modern Africa and a source of pride throughout the continent and Christianity has led. The martyrdom of these early believers sparked its growth thus dominant faith in Buganda and Uganda as a whole
The Trail serves to create a greater international and domestic awareness of Uganda's first Christians who sacrificed their lives rather than renounce their faith which has attracted pilgrims from regions throughout the world seeking for a spiritual experience."
The Uganda Martyrs' Trail wind its way through the various sites where the Uganda Martyrs were killed or tortured in the 1880s including the Namirembe Cathedral, where Bishop James Hannington's remains were buried; Rubaga Cathedral, where archives on the lives of 22 Catholic martyrs are kept; Old Kampala, where St Mathias Mulumba was killed; and Namugongo, where martyrs were burned alive.
At Namugongo the planting of Peace Trees as part of the Trail in walking this sacred ground which offers unique possibilities where spiritual pilgrims can find peace within themselves – and parties in conflict can find peace and reconciliation with one another."